Science of Identity Foundation Releases 'Karma Yoga of the Bhagavad-Gita' Part 2: Is Karma Avoidable?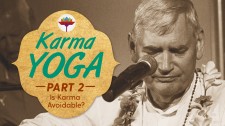 NEW YORK, September 29, 2017 (Newswire.com) - Science of Identity Foundation is proud to present this new live-streamed webcast series featuring illuminating discourses by international yoga meditation teacher Acharya das. This 4-part series will explore the path of karma yoga as detailed in the Bhagavad-gita.
In part 2 (Is Karma Avoidable?), we'll hear about the impossible dilemma the great warrior Arjuna found himself in on the Battlefield of Kurukshetra. Not knowing what to do, he turned to Lord Krishna for guidance. Arjuna was then instructed that inaction wasn't a solution, nor was false renunciation. In our lives, action is unavoidable, so we must choose to either act in a way that binds us to this material world, or liberates us from it. By acting in the service of the Supreme Soul without attachment to the results or fruits of one's work; in other words, to follow the path of karma yoga, one becomes free from karmic reaction.
Acharya das is a disciple of Jagad Guru Siddhaswarupananda and Srila AC Bhaktivedanta Swami Prabhupada and has studied the Bhagavad-gita for over 40 years. He is a respected teacher of Vedic and yogic philosophy, meditation and kirtan, and a practitioner of the transcendental science of Bhakti Yoga, the process by which a person can come to know and love the Supreme Soul. Acharya das has an uncommonly deep understanding of yoga philosophy and practice and conveys that message in a clear and simple way.
This free, live-streamed 4-part webcast is brought to you by the Science of Identity Foundation. Learn from the timeless wisdom of the Bhagavad Gita on how you can practically apply karma yoga in your life.
Established in 1977 by Jagad Guru Siddhaswarupananda, the Science of Identity Foundation teaches the practice of meditation and kirtan — along with the timeless yoga wisdom of Vaishnava Hinduism — to help individuals achieve greater spiritual, mental, and physical well-being. Passed down for centuries through an unbroken line of self-realized teachers, this ancient and authentic process of self-discovery can be practiced by anyone.
The video series can be watched on the Official Live Streaming Channel: https://sif.yoga/live
Media Contact
Jeannie Bishop
176773@email4pr.com
(808) 227-2609
Official Social Media Channels
https://www.facebook.com/thescienceofidentityfoundation
https://twitter.com/sif_yoga
https://www.instagram.com/scienceofidentity
https://soundcloud.com/scienceofidentityfoundation
Source: Science of Identity Foundation
Share:
---
Categories: Internet and Streaming Media, Non Profit, Education
Tags: acharya das, bhagavad gita, gita, jagad guru siddhaswarupananda, karma yoga, krishna, science of identity foundation, spiritual
---