Science of Identity Foundation Releases 'Inner Peace Meditation' Video Series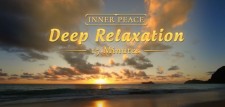 HONOLULU, August 10, 2018 (Newswire.com) - ​Science of Identity Foundation announces the release of a new meditation series titled, "Inner Peace Meditation." These three meditations are available for free on YouTube & Official Website for viewing at home, while traveling, or any time a person needs to relax and unwind. In each video, viewers will enjoy visually stunning scenic vistas accompanied by beautiful music and the sound of world-renowned yoga spiritual master Jagad Guru Siddhaswarupananda chanting sacred mantras—all of which combine for a heartfelt, meditative experience.
The art and science of meditation has been handed down for thousands of years as a way to improve well-being through increased relaxation and spiritual awareness. While there are many different types of meditation, mantra meditation is the easiest and most effective method to become detached from the incessant flow of desires, worries, and fears that constantly fill your mind.
Man means "mind," and tra means "to deliver." So a mantra is a special sound which draws the mind away from the worries and pressures of this world and offers it a spiritual sound vibration to rest and bathe in. Meditation can thus lead to a state of profound and deep peace and allow for deeper contemplation on life's important questions.
Each video will take one on a scenic journey with a variety of stunning views and images. As one relaxes to the rhythmic chanting of mantras and begins to sign along, they'll absorb the vibrations of transcendental sound as they penetrate one's entire being. These meditations can also help a person be more present in the moment, and become more aware of how their thoughts and feelings are affecting them.
One can enjoy these meditation videos at any time to relieve stress and quiet the mind. They can be watched upon waking, before going to bed, or even while making dinner – anytime a person wants to calm their mind, relieve stress, or tap into a deep source of inner peace. With the added practice of mantra meditation, not only can a person reduce stress, they can embark upon the journey of self-discovery.
About Jagad Guru Siddhaswarupananda
Jagad Guru Siddhaswarupananda is a Vaishnava spiritual master in the disciplic succession known as the Brahma Madhva Gaudiya Sampradaya. This highly respected spiritual lineage extends back over 5,000 years to Lord Krishna Himself.
He is also the founder of the Science of Identity Foundation which teaches the practice of meditation and kirtan—along with the timeless yoga wisdom of Vaishnava Hinduism—to help individuals achieve greater spiritual, mental, and physical well-being. Passed down for centuries through an unbroken line of self-realized teachers, this ancient and authentic process of self-discovery can be practiced by anyone.
More Information about Science of Identity Foundation
https://sif.yoga/about
https://twitter.com/sif_yoga
https://sif.yoga/about/jagad-guru
http://www.scienceofidentity.org/about
https://youtube.com/user/thescienceofidentity
https://soundcloud.com/scienceofidentityfoundation
https://www.facebook.com/thescienceofidentityfoundation
Media Contact
Jeannie Bishop
808-367-2633
176773@email4pr.com
Source: Science of Identity Foundation
Share:
---
Categories: Yoga / Meditation
Tags: inner peace, jagad guru, meditation, siddhaswarupananda, yoga
---