Science of Identity Foundation Presents an Enlightening Live Video Series: 'A Journey of Self-Discovery'
An exciting live video series on the essential nature of you — the self — your true nature and eternal position of happiness and bliss.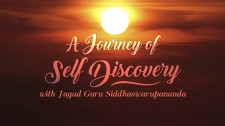 HONOLULU, September 28, 2017 (Newswire.com) - Science of Identity Foundation is releasing a live webinar series entitled "A Journey of Self-Discovery," which will be available for free viewing on the official YouTube Channel. 
 
In today's world, the materialistic worldview prevails. The belief that we are material in essence, and that material possessions, power, and fame will satisfy us, is rarely challenged. However, the profound yoga wisdom shared in this series of video lectures from world-renowned yoga spiritual master Jagad Guru Siddhaswarupananda will shed light on the true nature of the self, and where deep and lasting happiness can be found.
 
In this series, viewers will learn how the confusion, depression, anxiety, and hopelessness that is so widespread in modern society are all rooted in a lack of understanding of the true nature of the self and the deeper purpose of our existence. "A Journey of Self-Discovery," teaches how we can come to understand and act upon the true, eternal nature of the self, and begin to experience increasing harmony and happiness throughout every aspect of our lives.  
 
Unfortunately, the true wisdom of yoga is exceedingly rare in today's world. But now, this knowledge is readily available via your own personal computer or mobile device. Please join us on "A Journey of Self-Discovery," a live-streamed series presented by the Science of Identity Foundation.
 
Established in 1977 by Jagad Guru Siddhaswarupananda, the Science of Identity Foundation teaches the practice of meditation and kirtan — along with the timeless yoga wisdom of Vaishnava Hinduism — to help individuals achieve greater spiritual, mental, and physical well-being. Passed down for centuries through an unbroken line of self-realized teachers, this ancient and authentic process of self-discovery can be practiced by anyone.
Media Contact
Jeannie Bishop
176773@email4pr.com 
(808) 227-2609
Official Websites & Social Media
https://sif.yoga
https://www.facebook.com/thescienceofidentityfoundation
https://twitter.com/sif_yoga
https://www.instagram.com/scienceofidentity
https://soundcloud.com/scienceofidentityfoundation
Source: Science Of Identity Foundation
Share:
---
Categories: Internet and Streaming Media, Educational News, Non-Profit Schools and Institutions
Tags: jagad guru siddhaswarupananda, live, live video, science of identity foundation, self discovery, webinar
---